It is official!  I have arrived in lovely Buena Vista, Virginia, home to Orson Scott Card's Literary Boot Camp.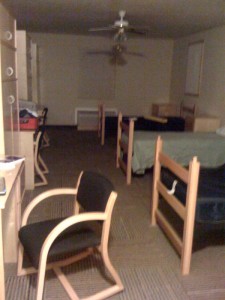 My dorm room is huge, and I have it all to myself, complete with in-suite bathroom.  Notice that its enormous breadth did not keep me from spreading out my belongings all over it.  I was afraid the largesse of Southern Virginia University's housing department would leave me with nothing to connect this experience to my old college days, but I was pleased to discover several pleasantly dormy quixotic touches, from the European style shower, to the exposed hardware on the beds, to the fact that the bathroom is the best-lit space.  These definitely made me feel more at home, though I suppose nothing can really replicate my original dorm experience.  I suspect there will be no one begging to crawl through my window to retrieve their volleyball from the roof.
I haven't met The Man yet, but I did meet several of my co-campers.  So, here's a little secret.  We writers?  We're awkward people.  The first hour or so was definitely touch-and-go, conversation wise.  But after a few rounds of "What's Your Genre?" we settled into a spirited discussion that ranged over such topics as Books With Endings That Totally Blew, Series vs. Standalone, and Twilight: Hot or Not?
I had an awful lot of fun, and am looking forward to getting to know these people better over the next week.  And getting to know their writing.
P.S. If anyone knows how to use a European style shower without creating a small lake on the bathroom floor?  I could use that information.